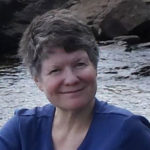 Janice Payne Holmes is mainly a water media artist who grew up in Seattle, Washington. She first moved to Portland from Seattle in 1995 and became a member of the Village Gallery of Arts that year. Janice and her husband, Kevin Holmes, moved to Colorado for seven years in 2000; she became a VGA member once again after moving back to Portland. Janice is also a member of the Watercolor Society of Oregon.
Janice always enjoyed drawing and painting and she knew at a young age that she wanted to be an artist. She earned an Associate of Arts degree in Fine Art from North Seattle Community College and studied at the Minneapolis College of Art and Design. She has worked with a variety of mediums over the years, but her main interests currently are working with watercolor or mixed water media.
Contact Janice about any of these art works by using the form below.