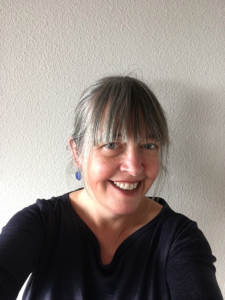 I am originally from a coastal town in North East England called South Shields and I relocated to Portland in 2020. I am an experienced teacher and artist. I taught art in schools in England for 20 years and created an art group called ArtFlow, which offered children a creative space to explore and expand their artistic flare. I am currently a practicing artist, specializing in Chinese Brush Painting, Sumi-e Painting and Watercolor and I teach classes to adults and children at The Village Gallery of Arts.
My love for Chinese Brush Painting, watercolor and Sumi-e (Japanese ink painting) started a few years ago when my brother, who was teaching in China, returned home with a fabulous gift for me: Xuan paper, Chinese inks, Chinese watercolor paints and brushes. My daughter bought me The Chinese Brush Painting Bible by Jane Dwight and my husband visited Japan and bought me Japanese watercolor paints and soap stones, on which I carved my own unique signature seals. I started to teach myself Chinese Brush Painting and from the first moment I painted I was captivated. You could say that my family are my greatest motivators, as they encourage me at every opportunity to keep painting!
I love the spontaneous and expressive style of Chinese Brush Painting and Japanese Sumi-e painting. They evoke emotion, freedom and thought and I get lost in the process! My love of nature and my surroundings is my source of inspiration and I continue to perfect my style by painting the wonderful scenery, flowers and amazing wildlife of Oregon.