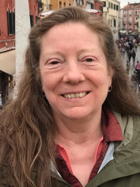 I have been involved with creative arts all my life. In recent years I have concentrated on ink and watercolor media and creating handmade books for notes and nature journals. Because of my English and Welsh heritage, the natural world (particularly the Pacific Northwest and British Isles) inspires me most and especially through the art and work of ancient Celtic peoples. I am drawn to the connections between the natural world, art, and the life of the Spirit that is exemplified in much Celtic work. I like to explore contemporary interpretations of similar themes. Forests, seascapes, mountains, water, stars, planets, and living things of all kinds are central to my art. I also love contrasts between the natural and built environment.
My formal education as a biologist has served to increase my attention to the tiny details as well as the overarching patterns and paradigms of nature which I find endlessly fascinating. Unlimited interplay of color, pattern, and texture is possible with watercolor and I enjoy combining scientific realism with imagination, humor with seriousness, and symbolism of all sorts. I am continually exploring the medium and expanding my understanding of it.  I consider myself an "advanced beginner" at this stage, having learned enough at this point to know just how much more there is to learn about the medium!
Contact Kathryn with your questions, inquiry or positive feedback by completing the form below.