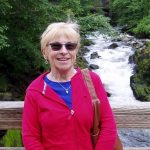 During my years as a teacher, I especially enjoyed teaching art to young students. They found a joy in painting and weren't afraid to experiment and try new techniques. Their enthusiasm was contagious and I often found myself following some of their free flowing ideas. As these same students matured, many lost that sense of freedom and needed encouragement and reinforcement to draw or paint. Each day, as I paint, I remind myself to keep that same joy that the young students found in their art expression.
Over the years I have taught watercolor to groups of adults. Like the older students in the schools, many of them are afraid to "make a mistake." When they finally are able to forget the world of criticism, and are able to start expressing what they feel, the rewards are great.
Today I enjoy painting in watercolor and acrylic, often adding a little collage, gold-leaf, or other textural elements for interest. My subjects are only limited by my mood of the day. Sometimes my giraffes look like rainbows and other days they pretty much resemble the ones in the zoo. I especially enjoy hearing people say that my paintings make them feel happy.
Contact Laura with your questions, inquiry or positive feedback by completing the form below.