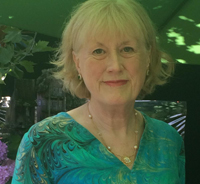 Lisa Manners loved to sketch with pen and ink in her teens; then pastels and charcoal in her twenties.
During a career in high tech, Saturday watercolor classes at the Corcoran School were a great way to free her mind from work.
She and her bird-watching husband took vacation trips across six continents to see wildlife in wondrous habitats. They lived in Virginia, Hawaii, California and then Colorado where she joined a plein air painting group who met weekly to paint in the Rockies. Most of the artists painted in oils, so Lisa switched mediums again.
Upon moving to Oregon in 2014, she joined the Village Gallery of Arts. She has served on the VGA Board for three years, first as Publicity Chair and then President.
Lisa's favorite subjects are scenes from nature: landscapes, seascapes, and the flora and fauna unique to each place. She enjoys painting both wilderness and carefully manicured Japanese gardens. Her animal portraits
range from elusive wildlife to household pets.
Visit Lisa's website, www.lisamanners.com
Contact Lisa about any of these artworks by using the form below.