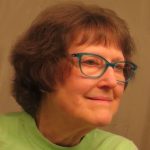 I work in acrylics, mixed media, photography, digital art, and a bit of watercolor.  Most of the time I begin with the materials and not with an image in mind. Nothing to lose, and then an image or idea asserts itself and grabs my brush or computer mouse. That's the fun, unexpected part.
The work is nonrealistic with some recognizable imagery, and maybe a message about the environment or living creatures other than humans. Even after a piece is supposedly finished, a happy accident or change in view can get me to layer it with a whole new approach. I use acrylic paints, inks, pencil, etc.–lots of the stuff that goes into mixed media. My surfaces are canvas, paper, wood, and the computer. In digital art, I start from scratch (freeform) or begin with my photos or adaptations from my own paintings.
I have a modest number of awards from local shows, have been selected for juried shows, and have art in private collections in the Portland area.
Visit Marcia's website : http://artistliszt.com/marcia
Contact Marcia about any of her art works by using the form below.