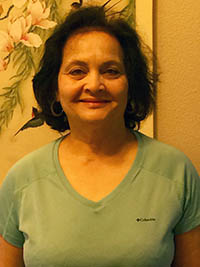 After a successful career as an ESL teacher, I retired In June of 2012. My desire to learn to draw and paint led me to join the meet-up group called ArtSparks. Based in Maryland's beautiful historic Frederick County, this group of talented artists welcomed me and shared their skills with me. I learned the basics of acrylic and watercolor painting, as well as Zentangle style of drawing from them.
My love of nature initially led me to depict beauty of each of the seasons. I took long walks to observe changes that nature brings and sometimes captured them on my camera. I used acrylic paints, water colors, alcohol inks and pens to portray my impressions of nature on paper.
Over the past few years my travels have led me to several art galleries at home and abroad. I have come to appreciate works of many talented artists. With a desire for formal art training I started to take classes at a local community college after moving to Portland in spring of 2016. I also became a member of Village Gallery of Arts.
On October 14, 2017, I had my first solo art exhibition at an Intel auditorium in Hillsboro, where I displayed several of my mixed media pieces. Now, as I become familiar with the art scene in Portland, I desire to learn from other artists and get better at what I love to do.
Contact Medha about her work using the form below.