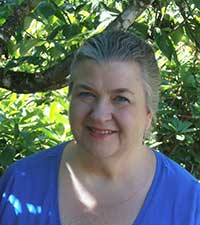 Susan has always loved to paint. As a child, Susan helped her parents repaint a rental house. Amazed by the positive impact of a simple change of color, Susan happily painted walls, shelves, and doors. Classes in drawing and painting soon followed. In addition to many finished paintings, Susan painted furniture, clothing, walls, and many things she should not have!
The beauty of well crafted calligraphy also fascinated Susan. She took a series of calligraphy classes at Clackamas Community College. Susan sometimes incorporated simple drawings to decorate quotes or short poems. Over the years, illumination of letters, plait work, and other decorative elements have been added.
Watercolors provide a sheer, stained glass effect that allows Susan to document her sense of the beauty and plenty that we share in this world. Susan began painting landscapes. Animals followed. Susan's appreciation with the balance, grace, and movement of the human form has led to figurative work. Portraits show a likeness imbued with the energy and personality of the sitter.
Susan is a member of the Watercolor Society of Oregon and the Village Gallery of Art. Susan currently teaches painting and calligraphy at Jo-Ann's and at Main Street Stamp and Stationary in Tigard.
Contact Susan about any of these art works by using the form below.